Adult Riding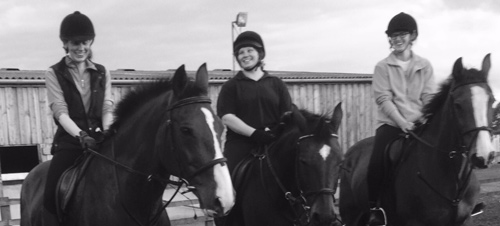 Adult Riding Lessons
Here at OEC adult riders are important to us. We offer lessons for all abilities, from the complete beginner to the experienced rider. OEC provides a safe and friendly environment to horse ride; maybe you have ridden in the past and would like to get back into the saddle.
OEC offers weekday adult riding lessons throughout the daytime, flexible times to suit your diary. These can be private lessons, semi-private or class lessons. If the weekend suits you best lessons are scheduled at least one Sunday a month, please see our calendar of events.
If riding on an evening is an option for you join a 6.30pm or 7.30pm class lesson during the week. Class lessons are not mixed ability, please contact us to find the most suitable class lesson for you to join.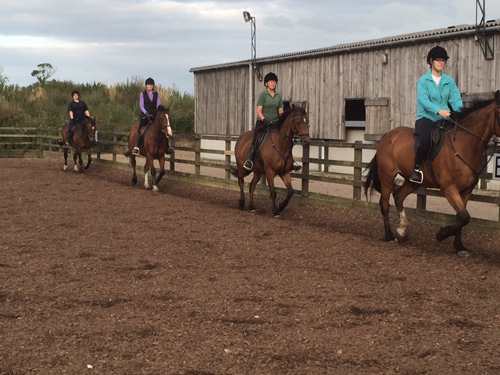 OEC Ladies Riding Club
One for the Ladies...
Come and enter a child free zone for an afternoon of riding, stable management and socialising with lady riders at OEC.
The afternoon will be tailored to those that attend for everybody to get the most out of the afternoon. Could include lunge lessons, jump lessons and hacking if the weather allows! There may be something in particular you would like to learn and discuss over a coffee in the stable management sessions, or something you would like to be able to do off the horse in the practical sessions such as being able to tack up. Please let us know and we will incorporate into the afternoon.
Day or Half Day Experiences
If anyone interested in a half day or day course these are always available at OEC, anyone interested in learning to ride , progress their riding skills or just for pleasure & fun.  Relax during the time spent with your equine friend on or off the horse around the yard gaining experience in all equine activities from grooming, bathing, turning horses out to the practical theory learning parts of the tack, horse, different bits, horse behaviour & much much more.
This might be one for you if your child keen to loan or own a pony & you feel you need more experience first. Or you might just fancy time out from the hustle & bustle of working life time just for yourself.