Contact us by email
Contact us by telephone
Rider Registration Form
Online Registration Form below...
Location
Tongue Lane, Gilberdyke, East Yorkshire HU15 2UY
Telephone Rachel 07961 104690
How to find us
Oxmardyke Equestrian Centre is located between Gilberdyke and Newport just off the M62/A63. We are close to the Yorkshire Garden Centre. Turn down Tongue Lane and then follow the road for about 500 yards , then proceed over Oxmardyke level crossing. From here you can see the large green indoor training facility clearly marked Oxmardyke Equestrian Centre.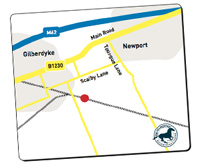 Download our location map in adobe pdf format.